Please note: Christmas bookings have a minimum stay period of 4 nights or longer.
For a 4 night stay the arrival date would need to be 23rd December as there are no arrivals or departures on 24th, 25th, 26th December.
Please stay longer if you wish to, call 07860 142965 or book direct on line.
Holiday accommodation – Luxury self-catering serviced apartments
Welcome to Harrogate's Leading Serviced Apartment Company.
Staying in a Serviced Apartment is the wonderful alternative to staying in a Hotel room, we know this because our guests have often informed us, together with the fact that the Serviced Apartment Industry is growing world wide to accommodate the enormous demand.
Our collection of apartments are all fully furnished and equipped with everything anyone would need while away from home whether travelling on business or pleasure. This is the perfect Hotel alternative and self-catering at its best.
You can choose from a collection of individually designed properties, from one to four bedrooms, it all depends on your accommodation requirements and style.
All of our apartments have their own special touch and have been tastefully designed with the interiors thought through, from Designers Guild's furnishings, flashy Italian Kitchens to classic with a contemporary twist, I'm sure we will have an apartment to suit your needs.
Every Serviced Apartment is personally viewed by the Managing Director of Harrogate Serviced Apartments, who works very closely with the owners to make sure they are all, as a minimum, 4 Star Standard.
Each apartment has a Welcome Book that holds information that you may need during your stay along with the WiFi code. The more interesting sections list our favourite five recommendations, what to do, where to visit and our favourite restaurants. Of course there are many wonderful attractions in and around Harrogate, our recommendations are there just to get you started.
If you are visiting Harrogate on business, holiday, relocating to North Yorkshire or in between house moves or renovations, we can accommodate you for short or long term lets. For exhibition or conference users, the Harrogate International Conference Centre is close to all the apartments.
The minimum stay is three nights, if you can only stay for two and are flexible with your dates, please call we may have that odd booking that allows a shorter stay.
We look forward to hearing from you.
J Chappell
Managing Director
New Apartment - The Tower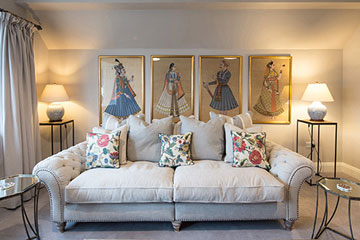 Take a seat, a glass of wine and relax in The Tower's special 360° tower room, view the whole of Harrogate as far as your eyes can see, it's so novel it's fabulous.
view more...